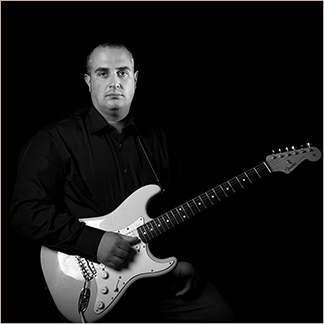 Canon Jack
Pablo Valdes & The Crazy Lovers
Edu Vázquez
Mandalaband
Last Knight
Electric Guitars | Acoustic Guitars
Sergio García is a self-taught guitarist from Gijón, Spain. In 1996 he joined the blues band Canon Jack with Carlos "Carro" Carriles on vocals, Fernando Alvarez on bass guitar, Jesús Braña playing drums and Jose Manuel Medina playing Hammond. With Canon Jack he recorded the album "Sigo Buscando" (never released), produced by Emilio Gutierrez and Jose Manuel Medina. They were disbanded in 2002 after several concerts.
Between 2003 and 2005 he played with a new band called Carlito's Way. From 2007 to now he is the main guitarist of the band Pablo Valdes & The Crazy Lovers, and with them he has recorded two albums, "Donde Nos Lleve La Carretera (2007) and "Noches De La Ciudad" (2009).
He also has collaborated with singer Edu Vázquez in his album "Escenas de Riesgo" and he is an habitual performer and co-writer of Last Knight since 1999. He was the first guitarist of the project with the piece "Present" from the album "Lord Of The Time".
In the last years, he has been a session musician playing acoustic guitar in projects like Mandalaband. He has created Estudios Rojo with Pablo Lato on which they record and produce other bands.
CANON JACK - Sigo Buscando (2001)
​
PABLO VALDES & THE CRAZY LOVERS - Donde Nos Lleve La Carretera (2007)
​
PABLO VALDES & THE CRAZY LOVERS - Noches De La Ciudad (2009)
​
MANDALABAND - BC Ancestors (2009)
​
PABLO VALDES & THE CRAZY LOVERS - Destinos Separados (2012)
​
PABLO VALDES & THE CRAZY LOVERS - Costa Este (2013)
PRESENT
Lord Of The Time
Written by S.Garcia & J.M.Medina
​
GHOST TOWN
Talking To The Moon
Written by S.Garcia & J.M.Medina
​​
EXILE OF THE NIGHT
Talking To The Moon
Written by R.Gerrard, C.L.Spear, J.M.Medina & C.Mold
​​
NIGHT'S DREAM
Talking To The Moon
Written by M.Atkinson & J.M.Medina
​
​